Aug
5,
2021
Specialty Cultures cell bank
Aug 5, 2021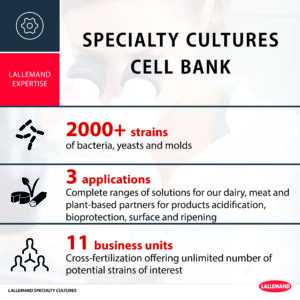 Lallemand Specialty Cultures expertise is based on its extensive cell bank with thousands of strains of bacteria, yeasts, and molds.
About 2000 strains of microorganisms are directly managed by LSC to serve our partners with a full range of meat, dairy, and plant-based solutions for products acidification, bioprotection, surface, and ripening.
Lallemand Specialty Cultures can also rely on strains from other Lallemand business units that provide microbiological solutions for dozens of other industries, from human and animal health and nutrition to baking, oenology, brewing, food ingredients, probiotics, and biofuels. Lallemand is a privately-held Canadian company that specializes in the development, production, and marketing of yeasts, bacteria, and their derivatives.
Contact us to know more about our Research and Development programs.