Nov
19,
2021
Notre distributeur Alliance Pastorale au salon Capr'Inov
Nov 19, 2021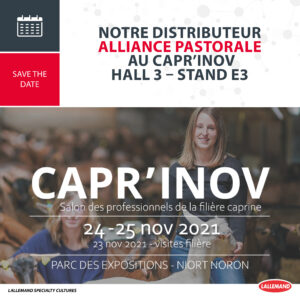 Moins d'une semaine avant

Capr'inov

, le rendez-vous majeur de tous les acteurs de la filière caprine. Lancé en 2006, ce salon rassemble éleveurs et partenaires, offrant des opportunités de rencontres, d'échanges d'expériences et de mise en avant des innovations techniques.
Nous serons représentés par l'un de nos distributeurs français :
Alliance Elevage
. Ils fournissent du matériel d'élevage, de production laitière et mettent les agriculteurs en relation avec un réseau de professionnel.
Pour en savoir plus sur nos produits vous pouvez rencontrer l'équipe d'ALLIANCE PASTORALE à Niort, 24 Nov – 25 Nov 2021, Hall 3 – Stand E3
En savoir plus sur le salon : https://www.caprinov.fr/
ENGLISH VERSION
Less than a week to go before Caprinov Niort, a renowned meeting place for all stakeholders in the goat sector. Launched in 2006, this show brings together breeders and partners, offering opportunities to meet, exchange experiences, highlight technical innovations, etc.
We will be represented by one of our French distributors: Groupe ALLIANCE PASTORALE. They provide husbandry and dairy production equipment and connect farmers to a comprehensive professional network.
Make sure to connect with them during the event to learn more about our products!
Learn more about the show: https://www.caprinov.fr/