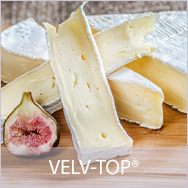 VELV-TOP®
A large range of cultures to achieve a tailor-made cheese rind
For more information, please send your request to lsc@lallemand.com
Bloomy or white rind soft cheeses such as Camembert, Brie, Tomme, Chaource, Coulommiers, and Goat cheese are always inoculated or sprayed with Penicillium candidum cultures to directly impact their surface and taste.
The original Penicillium candidum cultures from Lallemand Specialty Cultures (LSC) were selected for their phenotype, technological characteristics and flavoring potential.
There are multiple benefits to using Penicillium candidum for their production:
Optimise the surface appearance with a uniform bloomy white rind;
Enhance cheese flavor;
Preserve from undesirable flora growth. The Penicillium candidum rapid growth reduces the risk of contamination with spoilage microorganisms and pathogens.
The Penicillium candidum has proteolytic and lipolytic activities that act on the curd to enhance the cheese texture and develop flavor.
Product
Key features
Penicillium candidum
PC 12
Delivers an intermediate, white color surface

Moderate proteolytic and lipolytic activities

Provides mild antifugal (mucor) activity

PC RIND01
Delivers a very velvety surface

Produces little to no flavor (low proteolytic and lipolytic activities)

PC TN
The best Penicillium in the world!

Delivers a thin, very white color surface (high growth speed)

Produces little flavor

PC TAM5
Delivers a dense, homogeneous white color surface (moderate growth speed)

Low proteolytic and lipolytic activities

PC IB1
Delivers a thin, homogeneous white color surface

Produces low flowery flavor notes (low proteolytic and lipolytic activities)

PC C2
Delivers a dense, white color surface

Moderate proteolytic and lipolytic activities

PC PR1
Delivers a very thin, very white color surface

Produces little to no flavor (low proteolytic and lipolytic activities)

PC R
Delivers a very dense, white color surface

Produces strong traditional French Camembert flavor notes

PC TAM1
Produces low flowery flavor notes
PC PSM2
Provides strong antifugal (mucor) activity early in the process

Delivers a dense, breakable surface

Surface blends
BL PB1
Delivers a thin, velvety white color surface – Fast coverage

Produces low flowery fruity notes (low proteolytic and lipolytic activities)

Combination of key Penicillium candidum and Geotrichum candidum strains