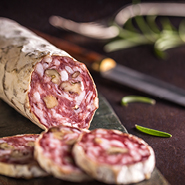 Starter cultures for all possible applications around fermented and cured meats.
LALCULT® Carne delivers a reliable red color development, contributes to flavor formation of mild or acetic flavors, controls the pH (deep or higher), and provides an elastic texture or a strong "wooden" one.
LALCULT® Carne has the answer for all desired finished product profiles. Leading in the Mediterranean region, this product range is the best partner to improve the organoleptic profile of your product.
Dry fermented sausages
Salami
Fermented sausages at high temperature
Semi-fermented sausages
Fresh sausages
Fermented Poultry sausages/salamis
Dry meats
Do you need additional information about this product line?
We will answer your request as soon as possible!
All of the fields below are required in order to ensure you receive the best possible service, adapted to your specific location and needs. Your personal information will not be shared to any third party or used to send you unsolicited email