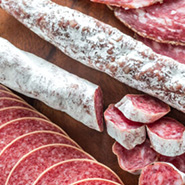 Surface Penicillium cultures for all kinds of dry fermented and cured meat products. LALCULT® Superficie is a premium quality range that delivers from fruity and sweet flavors to stronger mushroom notes.
LALCULT® Superficie optimizes the finished product appearance and coverage, from a brilliant uniform white to an off-white/ivory surface.
The surface of the meat is quickly and uniformly covered with noble mold and controls the environment by inhibiting the growth of undesirable mold flora through selected Penicillium competition.
LALCULT® Superficie is an ideal differentiator for high-quality products with Mediterranean aspect and flavor. Lallemand is one of the leading producers of Penicillium in the world.
Dry fermented sausages
Dry ham
Dry aged beef
Do you need additional information about this product line?
We will answer your request as soon as possible!
All of the fields below are required in order to ensure you receive the best possible service, adapted to your specific location and needs. Your personal information will not be shared to any third party or used to send you unsolicited email