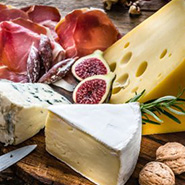 From inhibiting food spoilage to avoiding harmful contamination, bioprotective cultures are a rising natural way to answer a major challenge for the agri-food sector, due in large part to growing limitation of the use of conventional microbiological barriers.
Bioprotection refers to enhanced food safety and extended shelf life of foods by indigenous and/or intentionally added microflora, with their microbiological competition and production of antimicrobial metabolites to help inhibit the growth of pathogens and spoilage microorganisms.
With an ever-growing portfolio of bioprotective cultures, Lallemand Specialty Cultures strives to cater to all food producers.
Do you need additional information about this product line?
We will answer your request as soon as possible!
All of the fields below are required in order to ensure you receive the best possible service, adapted to your specific location and needs. Your personal information will not be shared to any third party or used to send you unsolicited email