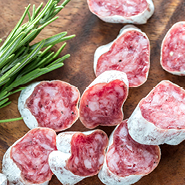 During the ripening phase the meat develops its unique flavor, LALCULT® Flavor is Lallemand Specialty Cultures' special range of starter cultures for enhanced and individual flavor profiles.
Tailor-made for special or regional specialties, LALCULT® Flavor is key to create a unique and individual, high-quality product. This range relies on the know-how, experience, and the outstanding strain collection from the Lallemand group.
Dry fermented sausages
Salami
Fermented sausages at high temperature
Semi-fermented sausages
Fresh sausages
Fermented Poultry sausages/salamis
Dry meats.
Do you need additional information about this product line?
We will answer your request as soon as possible!
All of the fields below are required in order to ensure you receive the best possible service, adapted to your specific location and needs. Your personal information will not be shared to any third party or used to send you unsolicited email